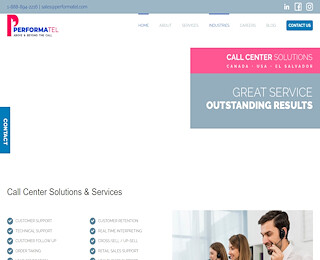 When you need to hire a call center service to cut costs, Performatel provides an affordable solution with a lower cost-per-call than other agencies. We understand the needs of our clients to budget voice-on-the-line services provided to their customers without sacrificing the quality of care offered. At Performatel, we make it easy to manage inbound and outbound calls, website communication, and email & SMS conversations with trained agents who care about your customers' experience.
Can a Call Center Service Save My Company Money?
A better question to ask is whether you can save money without damaging your brand's reputation with callers. It's easy to find a cheap substitution to receptionist services, but finding one that can improve the way your customers and clients see you while reducing your company's budget can be more challenging. Fortunately, there is a service you can turn to that won't ask your customers to compromise on quality of communication or wait on the line listening to background music. Performatel's agents provide friendly, person-to-person call answering every time your phone rings- and additional services, as well:
Customer follow-up (outbound calling)
Live agent interpreting
Credit card processing & order taking
Customer returns & refunds
Tech support
Message taking & call redirecting
Live website chat
Email & SMS response
Social media response
Is My Office's Answering Machine Adequate?
When answering machine technology first became available to consumers, it opened doors that allowed business owners to more effectively communicate with potential and existing customers. Today's technology has surpassed earlier message taking services- your callers expect you to keep up with the times. Consider the following data when deciding whether you'll benefit from a call center service:
More than 80% of callers will hang up when they hear a voicemail message
9 out of 10 callers will hang up after a 5-minute wait on the line
More than half of callers will hang up if they hear an unfamiliar accent
Customer satisfaction increases significantly when callers hear their native language spoken on the other end of the line
Live agent call answering costs about the same as an AI plan- and delivers so much more
Performatel's agents can provide a better value compared with an in-house receptionist
Performatel Provides Real Value
Our live agents will assist you in providing your callers with exceptional customer satisfaction each time they reach out to you with questions, concerns, order requests, returns, or for any other reason. Clear, concise, friendly communication is the hallmark of our commitment to your company- one which we can deliver on at a very affordable cost.
Contact us with all of your call center service needs and discover our value-driven approach to finding the right solution for your biggest communication challenges. We'd love the opportunity to speak with you over the phone, answer your questions, and help you choose the right plan to fit your budget. If you're experiencing company growth, an influx of calls, or specific difficulties when customers and clients reach out to you, we can offer a better solution.